Discussion Starter
•
#1
•
As some of you know there will be a baby Pug arriving in my house at the start of June. We've been waiting and waiting on the lovely Lilly...her ninth week this week and we were starting to think she was going to explode! These are some pics of her that the breeder sent over last week - looking fed up and like a rather large rugby ball, bless her! :lol: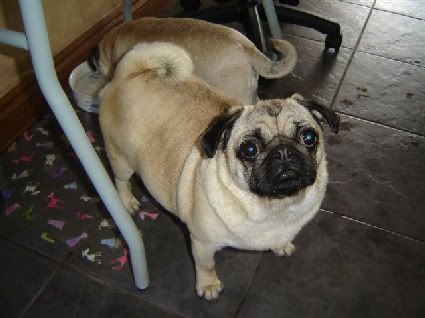 So, last night we got THE message that Lilly had been a busy girl and had delivered FIVE pups! 8O
Two girls and three boys. Not sure on which sex yet...but the breeder is keeping one of the girls to show, but after that I've got first pick.
It was all so exciting....and then I realised what the date was - the 12th of April.
the 12th of April was Tramp's birthday! (Tramp was my westie who was PTS last year - for anyone who doesn't know
)
I'm not one for signs....but by gum I'd say that that is one!
Very happy bunny at the moment! I'll put up puppy pics as soon as I have some. Breeder has promised to send weekly pup pics so i'll add them as I get them.