Discussion Starter
·
#1
·
Heres a few pics of my tortoises that I will be bringing home this sunday. Yeah I'm being giving both plus tortoise table as a thank you from my boss. How good is that?
Their names will be Columbo and Monk. Please tell me somebody other than me knows who Monk is. I love him, great show. Anyway.... 8O
Decided on the name Columbo as one tortoise only has one eye and the other doesn't have any. So keeping on the detective theme, he has been named Monk. Or Peter and Adrian if your being casual!!
Do you think the fact that one of them is completly blind should prevent me from changing their enclosure around every now and then. Just adding an extra rock or moving a bridge etc. Or do you think it's ok to leave the same, would that be better for him?
With my other animals I try to enrich their enclosures but would attempting to do so for these guys do more harm than good?
Anyway heres the pics,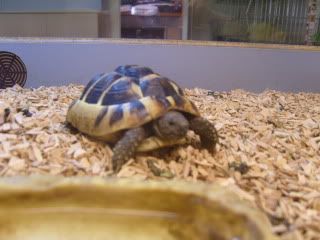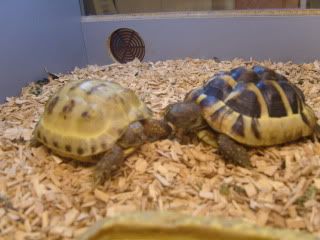 Heres the pics