Discussion Starter
•
#1
•
My parents bought a caravan in Barmouth a few weeks ago, so we eventually got there to visit yesterday. I wasn't feeling so great, but I forced myself to go and just took it easy.
En route, I stopped off at Cheshire Oaks and bought some new Joules wellies! Now I will be walking the dogs in the rain and snow, my cheap Tesco wellies just don't cut it anymore because they leak a bit and rub my toes! I only bought them so I could go sledging last winter, but now I need some decent ones! They are VERY girly (pink with white spots and a yellow sole), but so much comfier than my Tesco ones. And much prettier! I was actually bidding on this exact pair on eBay after borrowing my sisters Joules wellies a few weeks ago that are now about 4 years old and finding that they were really comfy - My maximum bid was £36 something and they sold for more than that (postage was £6.95). At the Joules outlet, for the same pair I paid £25! I was so happy!
We passed through a little village in Wales (somewhere between Rhutin and Bala) and saw a farm shop - I stopped in and got my first ever raw freebies! The butcher in there gave me all of their off cuts and filled a carrier bag! I asked how much, and he said "Nothing - but a charity donation to the local school would be appreciated" I obliged and bought a few bits too...I was really happy as I'm finding it difficult to source suppliers locally and that meant that the pups' dinner was sorted for the night (and the rest of the week actually, plus more!)
We got there and headed straight to the beach. Saffy has been to the beach a few times before, but this was Humphrey's first experience...he LOVED it. They both ran round with my parents dog and found every single stick they could on the beach :roll: They weren't at all interested in their balls
Humphrey surprised me because he dived in the sea and swam quite far out with my parents dog, jumped over the waves and knew how to catch a wave to get back to shore. I was a bit worried the first few times because I've never been to that beach and wasn't sure about the current, but I was ready to dive in if necessary and my parents dog stayed with him when he was having a swim!
They had a good run round, played in the sea, dug a few holes in the sand, rolled around in the holes they dug, they had so much fun! I forgot to charge my camera up, so I didn't get too many photos, but here's a few:
My parents lab Meg...She's starting to go really white on her face now (she's almost 9):
Saffy: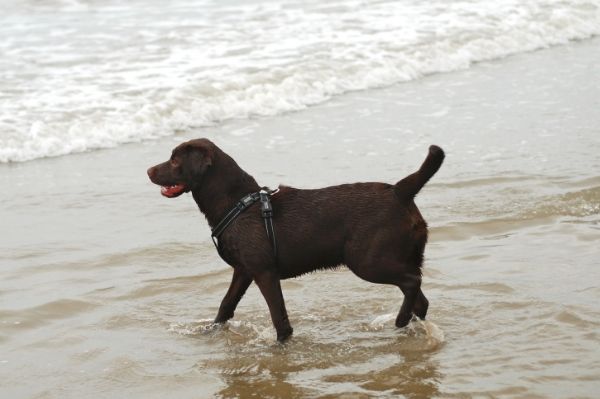 Humphrey:
Best buddies:
Causing mischief:
Playing with Meg:
Watching the sheep:
They slept from about 3pm-8pm, had their dinner, a wee and a little play, slept again from about 9pm-2:30am (when we set off home - yes I'm crazy), slept 3 hours in the car, then straight up to bed and slept until 11:30am, they had a little walk round the block at 11:30, and have been sleeping on the sofa ever since
We're having a duvet day today! It's crazy how much just an hour on the beach has taken it out of them!
I had a little nap in the caravan, and when I woke up, I overheard my parents talking. They were discussing Humphrey staying and how much fun they'd have with him, and my Mum was talking to my Dad about adding a puppy to their family. Meg is 8 now, and my Mum was saying they'd never have got through losing Bryn last year without Meg, and now she's getting older, having a companion would keep her young as it did with Bryn. I think they're regretting us having Humphrey and not having him themselves! My Dad went on to say that he thinks he's ready, and it would be a good test having Humphrey as to how they'd cope with another so young and he'll decide then if he's ready, or whether he'd prefer to wait a little longer.
I was happy yesterday that Humphrey and Meg got on so well. When they were sleeping, all three of them were sharing a basket at one point, and a little later on Meg moved to Saffy & Humphrey's mattress. Humphrey joined her and they slept together there for a few hours
I will have to get my Mum to text me the pic of that as she took one on her phone!
Unfortunately, a day out yesterday didn't make me feel much better
Hopefully I can shake it off ready for the work week ahead!