Discussion Starter
·
#1
·
Hi Everyone,
I've been doing some reading up on 'Ticks' this afternoon, and although we haven't encountered any as yet with Brad, i've put together a little guide for any of you that come across these horrid little creatures!
How To Remove Ticks
You are probably aware of prevention treatment & products to get rid of ticks or prevent them from feeding on your lab, and it's always a good idea to talk to your vet about what is available. However, if your Lab comes into contact often with any wildlife, such as sheep or deer, they are likely to pick up ticks from time to time.
Before they attach themselves, ticks look a little like tiny spiders but once they are engorged with blood they turn a pinkish-grey colour with a body the size of a small pea.
Although harmless in themselves, ticks in some areas of the UK now carry the serious Lyme Disease. If you spot a tick on your Lab, it should be removed as quickly as possible. Due to the risk of Lyme Disease, the old advice of allowing ticks to drop off by themselves no longer applies. If your Lab has been on a walk with close contact to wildlife, it is important that you inspect them very carefully afterwards, as you may spot ticks in their coat, before the ticks have a chance to attach themselves.
You will find that it is much easier to remove a tick, once it is dead.
- Firstly, grab the tick by the head or mouth parts right where they enter the skin. Do not grasp the tick by the body. (It has been known to apply vegetable oil or petroleum jelly to the tick first, but this does not cause the tick to 'back' out. This has been done in an attempt to kill the tick as they breathe through their skins. The disadvantage of killing the tick first is the risk that the irritants may cause the tick to deposit more disease-carrying saliva in the wound.) Be very careful not to squeeze the body of the tick.
- To pull them off, you will need to grip them as close to your labs skin as possible, using tweezers or a special tick-removing instrument you can buy. It is best not to use your fingers to remove or dispose of the tick. Do not squash the tick with your fingers. The contents of the tick can transmit disease.
- Once you have gripped them, pull. Without jerking, pull firmly and steadily directly outward. Do not twist the tick as you are pulling.
- When pulling, try to make sure that the head of the tick is removed as well as the body.
- Afterwards, clean the bite wound with a mild antiseptic and wash your hands.
Dog Tick Photos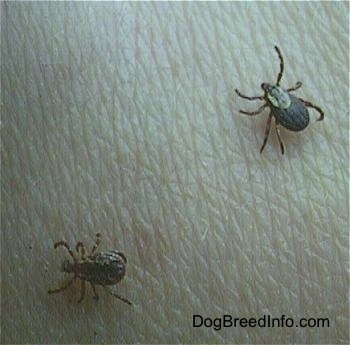 Hope this helps.
Julie