Discussion Starter
•
#1
•
Hello! Not posted for a while as I've been silly busy doing uni applications...and also every time I try going on my phone I get redirected to the app store!
Hope everyone & their pooches are well?
Milo is huge now, had him weighed today and at 5 1/2 months he's 23kgs! He's lovely, and apart from legging it across the park every time he see's his mates he's been really well behaved
This was during the fireworks, he wasn't bothered at all! Went outside for a wee and he just sat watching them!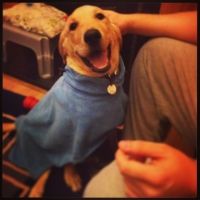 Loving life in his robe!
After sticking his head into the bag of coal for the fire. Good thing about having a yellow lab, everything shows!
Kim & Milo xx