Discussion Starter
•
#1
•
Tonight we went to the end of year puppy Christmas party with the hooligans. They had an absolute blast! We played a dog-friendly version of musical chairs, musical statues, runaround, the egg & spoon race, run with a balloon between your knees, who can eat the least sausage, and then some off lead chaos at the end
Although I'm really not a fan of dressing dogs up, since we were going to a Christmas party, I bought both dogs a Christmas pudding outfit and a Santa hat! A few other dogs were dressed Christmassy too, but most just had tinsel round their collars! My two were slightly over-dressed
We stayed behind after the class to discuss Saffy's puppy diploma (and possibly Humphrey's too) over a glass of wine
Our trainer gave us a list of things the dogs need to do in order to pass the 'test', which are:
1) Sit, down, stand on command and in whatever order is given.
2) Sit, wait, recall (at 10 paces).
3) Sit to greet person with an unknown dog (one of the trainers own dogs).
4) Handling & vet check by instructor (includes looking in mouth and between toes).
5) Loose lead walking.
6) Sit, 45 second stay, walk back to dog.
7) Off lead walking to heel.
8 ) Leave it / Take it
9) Knowledge of your dog (4 questions)
I'm slightly worried about a 45 second stay, but we'll be practicing lots over the next couple of weeks! At home, 45 seconds is easy, but somewhere else? I'm not so sure! We'll need to get out and about to practice that in a few locations!
We will be going to the class on January 6th as a final practice, and the test will be probably immediately after!
Before we left, we were all in tears! Saffy jumped up at the trainer, I gave the off command, and the trainer said she didn't mind...so Saffy jumped up again with her paws round Carols (the trainers) neck, and licked her for a few minutes. I cried, my hubby cried, Carol cried, the 2 puppy class helpers cried...We were all emotional wrecks! Carol said that Saffy is the kind of dog that makes her job worthwhile, seeing how far they come in such a short space of time, and especially so a dog like Saffy that was so terrified of people.
We have done so much work with her, and I think she is ready to move up to the classes with the bigger dogs! We discussed which classes would work best to move up to, and I think after the KC bronze/silver/gold classes, we will probably look at advanced obedience with Humphrey, as we want to have a little dabble in showing (just for experience), and possibly agility for Saffy just for fun, as I don't think she's of the right temperament for doing anything competitive and I don't think she'd appreciate a stranger handling her in the showring for example - I would definitely like to avoid anything setting her back, so am ruling out anything competitive for her
So...for some photos...
Saffy & Humphrey in their ridiculous Christmas pudding outfits (and Santa hats):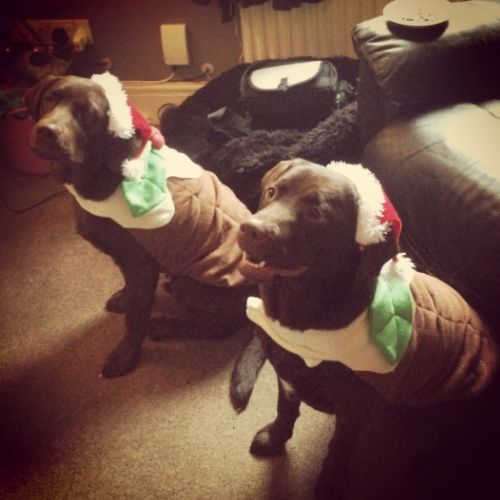 And here's some of Saffy at the puppy Christmas party. I didn't get any of Humphrey since hubby was handling him, but I will probably be able to take a couple off their Facebook page tomorrow...But hopefully these pics will show just how happy and relaxed Saffy is now: