Discussion Starter
•
#1
•
We spent two nights at The Wagon in Wiltshire. Great set up for dogs, with big hut with wood burner, gas hobs, fridge, double bed for us all to share 8)
http://www.canopyandstars.co.uk/britain/england/wiltshire/puckshipton/the-wagon?state=?state=display=list&lat=48.207371806090784&lng=-0.05358000000001084&maptypeid=roadmap&zoom=4
It's right by a lake and no animals near by so Cooper was off lead and out of control - for two whole days! He is very tired now! We arrived in pouring rain and as if he wasn't soaked enough, Cooper went for a little evening dip in the lake - didn't get a picture unfortunately. There's also a row boat and we went out on the lake, Cooper jumped out to 'attack' the oars and had to pull him back in - we all got soaked, but again no camera with me to capture it!
We allowed him to sleep in the bed with us because it was like a mini holiday. The first night he was fidgeting lots and kept waking me up, but the second night he just kept to his corner and woke us up with BIG slurpy kisses!
Here are a few pics which I hope you'll enjoy!
Our shack for the weekend
Using grass as floss..
After stealing some apparently lip smackingly good bacon
ZZZZ with the mama
Walking to the pub (and notice the heel work!!)
Enjoying a pint at the pub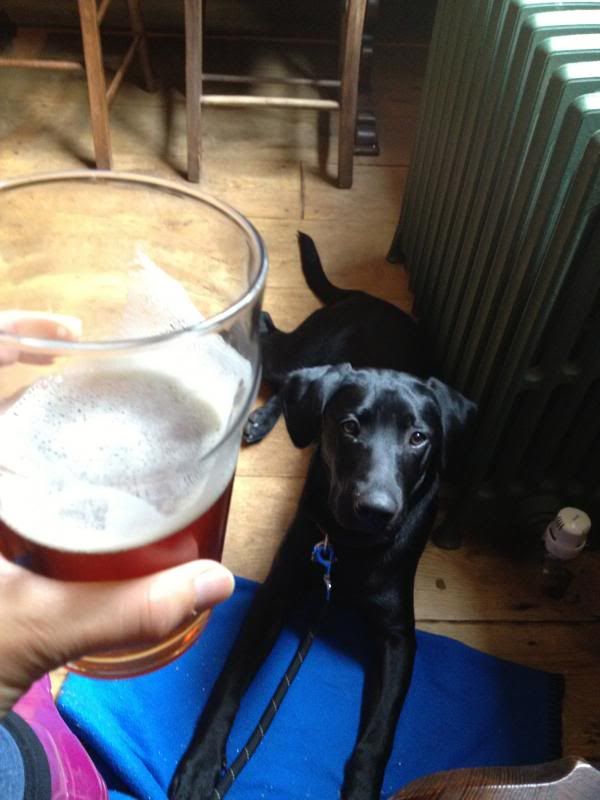 Watching the door to the loo (wouldn't have been able to go without him to protect me from the wild beasts!)
Helping find some wood for the fire - his favourite chore
Enjoying his bonio by the fire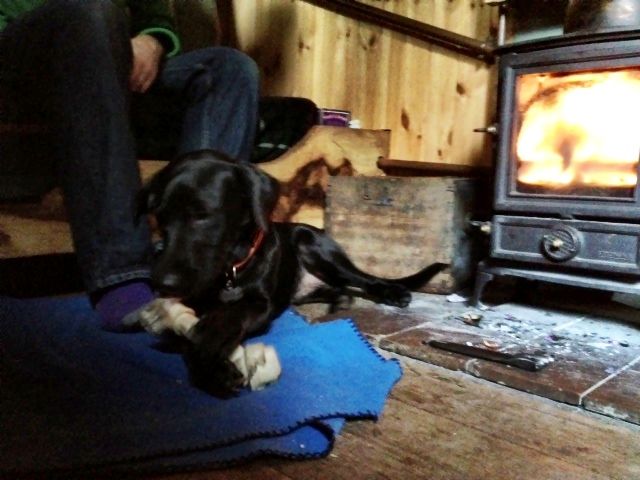 And deep sleep in the car on the way home